Hello Travelers,
I snagged that snazzy photo for you from the Viking Cruise website, it looks like our part of the country. Work has begun on a special dock in La Crosse for the enormous Viking cruise ships that will be traveling on the Mississippi River! We are so excited! This is one Viking invasion we are ready for! Castle La Crosse is on the list of places for passengers to visit while they are in La Crosse, we are still working out the finer points of that plan. As we see it, the Viking ship will be making its way down the Mississippi and making quite a few stops, La Crosse is one of those. Passengers have a chance to hop off their luxury floating hotel and explore cities along the route! That would be one of the best parts, I'd love the chance to get a nibble of a dozen cities and then plan trips back to explore those in more detail. Here is a link for the best part of the story of the Viking ships on the Big Muddy: https://cruisemaven.com/what-viking-mississippi-new-river-ship-will-look-like-2022/
Here is some Viking cruise history I found online, fascinating! Viking was founded in 1997 with the vision that travel could be more destination focused and culturally immersive. In 2000, the company purchased Europe's KD River Cruises in order to grow its fleet, to leverage 40 years of river cruising experience and to acquire rights to prime docking locations in key European cities.
The company expanded into the American market in 2000, establishing a sales and marketing office in Los Angeles, California. Since then, Viking has grown to be the leading small ship travel company, offering river, ocean and expedition voyages on all seven continents.
With an operational office in Basel, Switzerland, Viking provides destination-focused itineraries for curious travelers. Each journey includes a shore excursion in every port and an onboard and onshore enrichment program that provides deep immersion in the destination through performances of music and art, cooking demonstrations, informative port talks and carefully selected guest lecturers.
With 250 awards to its name, the company currently operates a fleet of state-of-the-art ships that have received numerous accolades since their launch from industry experts and travelers alike. Viking was voted the #1 River Cruise Line in 2020 and 2021 and the #1 Ocean Cruise Line in 2021 by Condé Nast Traveler in the 2020 Readers' Choice Awards. In addition, Viking has consistently been named the #1 Ocean Cruise Line* by Travel + Leisure readers in the World's Best Awards.
Viking marks its 25th anniversary in 2022; by the end of the year, Viking will have welcomed a second identical expedition ship, as well as two new identical ocean ships, new Viking Longships® in Europe and new purpose-built vessels for the Nile, Mekong and Mississippi rivers.
Wouldn't you love to have one of those fantastic "All outside staterooms" overlooking the entire Mississippi River as you slowly float down to the Gulf of Mexico? Drink in hand, think about all the different views, the wildly different landscapes and the food along the way. Maybe plan a trip back to St. Louis and explore that famous city or one further down river.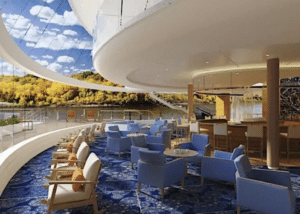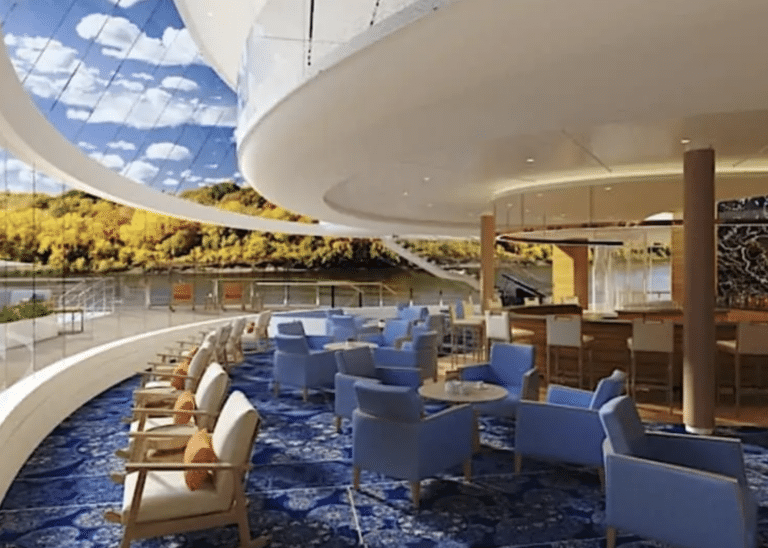 Now…it's a pricy adventure for sure! Don't get turned off by sticker shock, I'm not a great math wizard, but higher math is not beyond my abilities. Here we go: Cost of the total cruise, divided by the number of days, subtract the cost of meals and drinks, divide by two (assuming I won't be going solo, who would?), try to estimate the cost of the personal butler and all those amenities and it's a DEAL with a capital D. Roughly $300 per night by my estimation for 15 days on board, 11 tours, meals and drinks, entertainment between stops….whew, I'm exhausted. Let's GO! Now that I have you half packed, please check out their site for more details.
This is all very good news for La Crosse and Castle La Crosse is part of it! Just another way we are working to maintain Castle La Crosse for future generations to enjoy!
Safe Travels, pack your bags! Time to plan a return trip to Castle La Crosse! As the seasons change, Chef Brandon will be making some delicious breakfast dishes, what a treat!
See you soon,
Billy and Brandon
Castle La Crosse Bed & Breakfast
www.CastleLaCrossebnb.com