When You Are Ready, The Freedom To Explore Awaits You!
Hello Travelers,
We hope you are doing well and that your families are safe.  All in all, this period has been difficult, but not impossible, on our end.  Kudos to all of you managing to work from home with kids home from school, pets getting way too much attention, meals being prepped for everyone, and also trying to cover all the bills.  We are thinking so far outside the box, I'd need binoculars to see the box from here.  But, there are better days a'comin!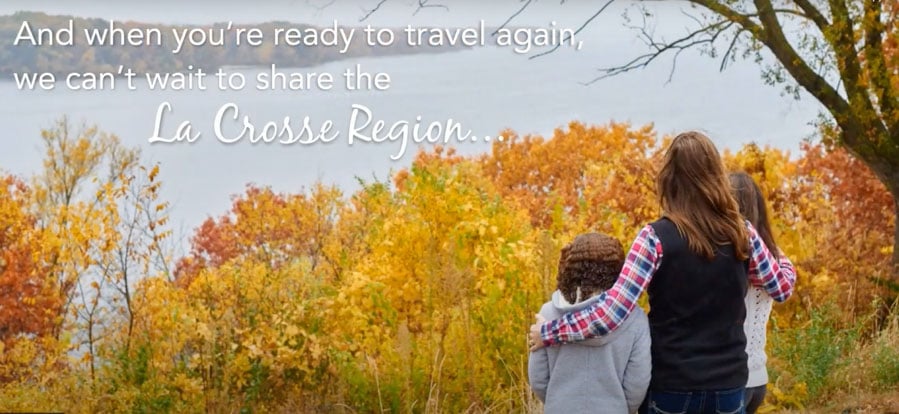 Travel and Self Care
I try to keep up with trends in the market and economy as well as what is expected with travel.  I think the overall message is self care and getting out into nature once the travel ban and shelter in place orders are lifted.  La Crosse is not a major tourist destination like some places, but we do rely on tourism to support our businesses, including Castle La Crosse.  I've learned that 85% of travelers are changing their plans, domestic travel is going to be the best choice for a vacation, and regional markets like the Midwest are going the be the first to recover.  What does all that mean?  It means that La Crosse has to be ready.  Therefore, our local Convention and Visitors Bureau has created a great video to spread their message of "When you are ready, we are here"  Check it out here:  Visitor's Bureau Video
The Great Outdoors

After being cooped up for so long, let's use the great outdoors to get back on track. Hiking trails are ready; boats on the Mississippi are ready; tires are aired up on the bikes; even the Bald Eagles flying overhead are on the lookout for some activity.  The La Crosse region is famous for getting people back to nature which has tremendous healing powers.  Once you look out from on top of Grandad Bluff or race your bike into the tunnel in Sparta, you begin to feel like your old self is returning again after a long break.  See what has changed while we have been away.  Check out the menu at your favorite La Crosse restaurants, or grab a drink at the distillery with friends – When You Are Ready!  Check out the following restaurants that are popular in the area:
The Farmers Markets Return!
As of this blog, the Farmers Markets are still ready to start the first weekend in May in Minneapolis and Menomonie along with a few others.  We can still practice social distancing while picking out the first of the summer produce.  Nothing makes me feel more connected to the Earth than fresh tomatoes. Why is that?  Maybe it's something from childhood.  I better get started on my vegetable patch soon.  I bought ten rhubarb plants yesterday so Brandon could be well stocked for his famous Rhubarb dishes.
Until then, stay safe and let us know how you are doing.  I'm planning to send a note out to all of our guests to encourage everyone to book their stay at the Castle for this summer as soon as they can.  I think it's going to get busy!  We appreciate you very much.
Love from the gang at Castle La Crosse!