Hello from Castle La Crosse, where it is currently 9 degrees outside and, inside, the big old house is cozy and warm.
This is our first blog of the new decade; we hope the new year is off to a good start for everyone.  There is a lot to accomplish this year!  We have to remind everyone to review and update their bucket list, get out and VOTE, and see what new things there are to do in your neck of the woods!  What exactly does that mean anyway…Neck of the Woods?  I'll have to look that one up.
Special Birthday or Anniversary?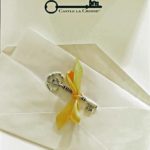 We have a wonderfully special running until the end of February.  If you make a reservation at the Castle for a stay between March 1 and July 31, in either the Birch or Oak suite, there are some really special rates available on our website.  You could be with us just in time for spring flowers, for early summer events, river boat cruises, and the farmers markets.  I'm always excited to visit with guests we have not seen in a while and meet the new friends that come to explore this amazing region.
Extra, Extra! Read All About It!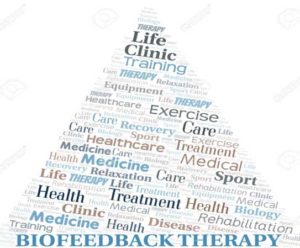 In the news this week, Biofeedback for Stress Management is now available at the Castle!  News is spreading fast and there will be an ad in the Coulee Region Women magazine. Other ads and stories will soon follow.  Billy got fascinated with Biofeedback and its benefits for stress management last year.  He quickly got started studying Quantum Physics and the equipment needed to measure stress in  the body.  Billy listened to podcasts while painting the Castle's trim, hauling tree branches and brush, and discovered this amazing treatment that helps manage stress from illness, injury, chronic pain or disease.  Billy could really identify with that!  Biofeedback therapy is helpful for sports performance, ADD/ADHD, migraine headaches, and others. Guests at the Castle are welcome to experience biofeedback sessions during their stay.  Billy is available to explain the benefits of whole body wellness.  Read more at www.BlufflandBiofeedback.com
Castle La Crosse B&B on Trip Advisor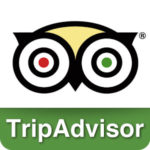 For those of you that have not already done so, please take a moment and go to tripadvisor.com to leave a five-star review for Castle La Crosse.  Last year we won the award for the "Most Welcoming Bed and Breakfast in the US", thanks to our many wonderful reviews.  It would help us a lot, so thanks in advance for your support.  Our goal for 2020 is to meet new people and put together some more ideas for those that love to travel.  Along with the Castle Cookbook, we are creating a coffee-table book about the history of Castle La Crosse, a literary work which is still in progress.
New Discoveries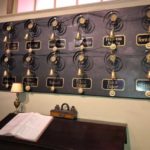 It seems every week we discover something else new about our amazing home.  Recently, there was a story about a house for sale, built about the same time period as the Castle.  In that home, they still had working speaking tubes that allowed servants to speak to the kitchen from the upstairs hallways.  We have one of the speaking tube devices in our own basement!  Now we are curious where the others are located and how they were used.  Unlike Downton Abbey, the Castle didn't have a bell system as pictured here.  Ours had copper tubes running in the walls around the Castle and a small brass megaphone shaped device in the servants hall in the basement.  "More tea needed upstairs" might have been a message sent to the kitchen.  I keep speaking into the tube, still waiting on the tea!
Plan a Stay At the Castle This Year!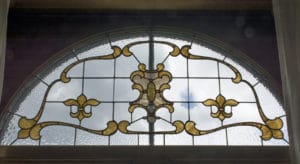 What do you have planned this year?  How can a stay at the Castle make your event even more special?  Give us a call or send a message.  Check out our updated photos on Facebook and Instagram, all thanks to Brandon who loves taking photos whenever the light hits a different part of the Castle's woodwork or stained glass.
Inns of Choice
We will send out more information on Inns of Choice in the next month or so.  Inns of Choice showcases  a select group of Bed & Breakfasts in the region. We provide a discount coupon for you to use for your stay at any of the other inns in the group when you stay at Castle La Crosse or one of the other Inns Of Choice.  They are all exquisite, carefully selected, and guarantee a wonderful stay.  Check out the full selection at www.InnsofChoice.com
Our New Office
Just a quick update on the Castle, because we know how much you like to hear about changes!  We are moving our office to the basement.  Therefore, the new office is just below the kitchen, so we can dash down the stairs to answer a question, help with a reservation, or upload some photos.  The current office is now the Biofeedback room.  There is still a bit more organizing to do.  When you're managing 44 rooms on five floors, organizing can take some time!  We have more amenities planned for all the guest rooms, on-going landscaping projects on the property, and more events to add to the calendar.   Most likely, there will be something new happening on the dates you plan your stay, so be prepared for big surprises!
If you have any suggestions for plants that thrive in this region, drop us a line.  We would love to hear what you have to say!
Until next time…
Take care, safe travels, and keep in touch.
Love from Castle La Crosse
Billy and Brandon